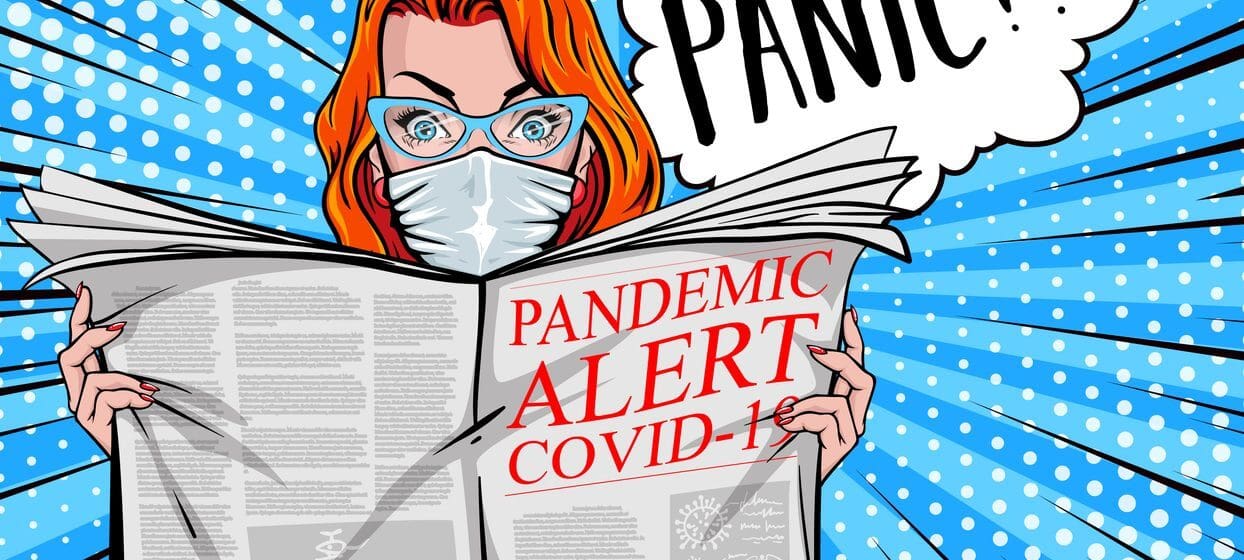 Marketing in the Age of Coronavirus
Corona Virus Digital Marketing SEO
The Coronavirus pandemic is reshaping society as we speak. The major world crisis we are facing has already changed the way we used to travel, buy, work or interact with the others. And, with no clear time-frame for getting back to "normal", the only thing we can do is adapt to a "new normal". After more than […]
The Coronavirus pandemic is reshaping society as we speak. The major world crisis we are facing has already changed the way we used to travel, buy, work or interact with the others. And, with no clear time-frame for getting back to "normal", the only thing we can do is adapt to a "new normal".
After more than one-quarter of the world's population has been confined at home as an unprecedented measure to stop the spread of the disease, many economies are facing the biggest economic contraction on record.

The Australian Market 
Since the beginning of the Coronavirus crisis, the Australian economy has been through the most significant changes in the last 100 years. The economic environment had never changed so rapidly before, which brought a lot of pressure on business owners and marketing specialists.
We are now forced to proactively review marketing campaigns and make constant adjustments to stay afloat. No-one knows where we will be in three months, so we have to be mentally prepared to respond to the changes in a continually fluctuating market quickly.
Carefully Analyze Data and Adapt to the New Situation
In these challenging times, business owners and marketing professionals need to understand how people's needs, wants, expectations and buying habits have changed, to find the best marketing solutions that enable brands to survive and make the most of the crisis. New marketing and advertising strategies need to be taken into consideration to align with the current climate.

Communicate with your audience  
If you have been thinking about new ways of communicating with your targeted audience, now is the perfect time to act. Start that podcast, use that social media channel, start blogging, send those email newsletters; do whatever it takes to connect with your customers. You may also contact existing (or potential) customers on the phone, on Zoom, on FaceTime, Skype, or any other form of digital communication.
Video is no longer optional
If you have delayed using videos in your marketing campaigns, now you must do it. The amazing growth of Zoom marks a definite shift in people's desire to consume video content.
Update Your Messages 
However, in times like these, when promoting products and services, you want to be extremely careful to the tone of voice and your choice of words, as the public has become very sensitive to the way businesses are promoted. People are in a different mindset than a couple of months ago. This means marketing specialists need to show more empathy and offer clients useful content that helps them solve their issues, without shamelessly exploiting the crisis.
Reinvent Yourself
You can continue to make sales if you reinvent your marketing strategy, offering people solutions to their current situation, without inducing fear and without looking opportunistic.
Use Google trends to understand what people are searching for, what they are mainly interested in, what they are worried about and what you can do to help them. If you look around, you will notice that most businesses have already adapted to the situation. Companies with a robust online presence changed their promotional messages, and analog businesses became digitized overnight to avoid bankruptcy.
Offer Your Products/Services in a Safer/Contactless Way 
If you haven't done this already, it is time to get creative and find a way to offer your products/services to your public in a safer way. Many psychologists started to provide online consultations, most retail companies are delivering their offerings at home, restaurants are making home deliveries, and attorneys offer legal advice via Skype/Zoom meetings. Of course, this doesn't work for all businesses, but if there is a way for you to get to your customers, you need to find it.
Analyze your content and further develop it
Your website is the backbone of your business, as it gives consumers a clear idea about your brand, its values, its story, actions and behaviours. All the services and products you sell are presented through your website. Now it is the best time to look at your company's website, to detect its strength and its weaknesses, and see what improvements can be done to make sure it reflects who you are and what you offer to the public.
It's time to create new content, to provide better quality images and double-check all internal links. Your online presence is essential for your business' success; therefore, your website must look sharper than ever. You can publish new content more often. Right now, there's a vast demand for informative, entertaining content that connects people and promotes wellness.
Blogging is one of the best ways to create search engine friendly content and keep your readers engaged and informed with your recent activity. Focus on educating your consumer to position your brand when people are searching for products/services within your industry.

Delay Product Launches 
If you have been working on a new product/service that would have been well received before the crisis, you should most probably postpone the launch for a later date. Focusing on your clients' new needs looks like a much better idea at this point.

Sales and Marketing Should Be Aligned 
Always keep in mind that sales and marketing work together. This is even more important in times of crisis when your marketing decisions should be based on a thorough understanding of people's needs, desires and interests.
Professional Development is a Must 
A savvy marketer uses this time to achieve new skills which might help them get in front of the competition after the crisis. There are lots of training resources out there, depending on the guidance you are looking for.

Build Relationships 
What if you could try to meet like-minded business people who share the same type of clients. Maybe you have always wanted to do this, but you have all been busy. This is the right time to meet, exchange ideas and nurture relationships that might prove very helpful later on.

Think in the Long Term
Most businesses have lost a percentage of their customers. To make up for the loss, you could develop a few strategies to find new customers, also offering the remaining clients some benefits, such as gifts, flexible payment terms, putting contracts on hold etc. Lost clients can also be nurtured, engaging and informing them about your new offers. To find inspiration, check your direct competitors' websites, social media accounts and campaigns to see how they cope with the current situation.

SEO is the key
You have probably noticed that the money invested in paid ads are no longer generating a good ROI. So, it is high time you switched to SEO for gaining new leads. Focus on all those technical changes that could bring positive results and get your SEO video strategy sorted out. Updating local business listings can also bring valuable traffic and leads, so make sure you optimize your GMB account. Also, it's never been more critical to create new quality content. So, create a content calendar and stick to it.
Big Changes, Big Opportunities
As scary as the current situation may seem, there are always ways to improve so that you can come out of it more resilient and wiser. Let's not forget those big businesses such as Dropbox, Airbnb, Slack, Uber or Stripe were founded during the global financial crisis of 2007-2008. These companies are living proof that major crisis also offers big opportunities for innovation.

What About Marketing Budgets?
Fearing the recession that will likely follow the global health crisis, some business owners are tempted to cut down on the marketing and advertising budgets. But that's probably the worst thing you can do right now.
Marketing budget cuts should be done after a careful analysis of each channel to avoid cutting those ROI-positive channels that could ensure the success of the business. Analyze your Google, Facebook, Instagram, YouTube and Twitter accounts, and if you have some ROI-positive channels, it is time to invest in them to make even bigger profits.
When markets resume, companies who have known how to handle the situation and have smartly invested in marketing and sales will outperform their competition. If you have not gained your public's attention now, it will be much harder to do this once the crisis is over.
So, don't wait for your competitors to get stronger. Look for new opportunities, adjust to the current situation, show empathy and professionalism and help your consumers get past this tough situation easier by offering them valid solutions. Don't give up. Your efforts will pay off.
Here is an excellent video of Seth Godin explaining How To Reach Your Audience: